Farmingdale Fire Department 2011 - 2012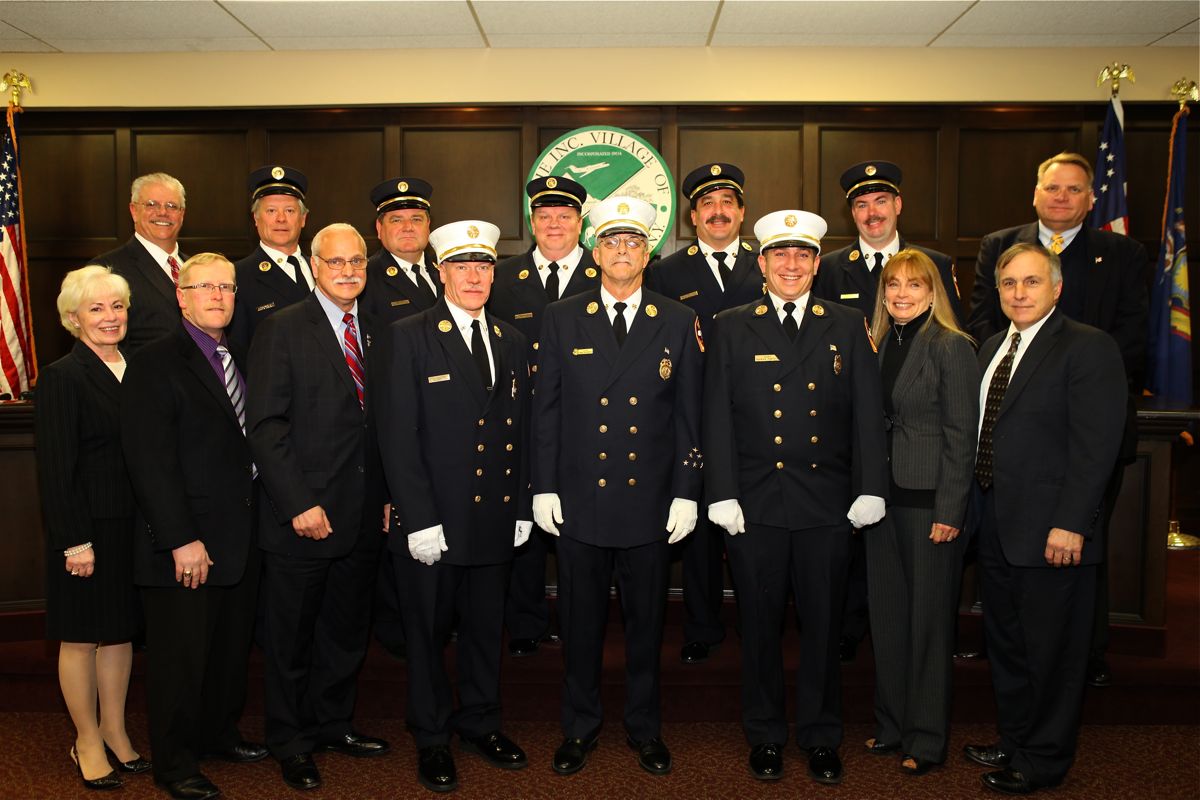 Office of the Chief
Chief - Jack Scherer
1st Deputy - Frank John Romano
2nd Deputy - Patrick Tortoso
Recording Secretary - Alison Celaya
Treasurer - Russell Carpenter
Hook Ladder & Hose Company No. 1
Captain - Ryan Tortoso
1st Lt. - Michael DiBartolo
2nd Lt. - Micheal Tortoso
Chief Chauffeur - Roger Schlingloff
Recording Secretary - Henry Pieloch
Financial Secretary - Kenneth Tortoso Sr.
Treasurer - Donald Tortoso
Water Witch Engine & Hose Company No. 1
Captain - Matthew Pullaro
1st Lt. - Keith Ryan Jr.
2nd Lt. - Sean Conway
Chief Chauffeur - vacant
Recording Secretary - Alison Celeya
Financial Secretary - Michael Kelly
Treasurer - Joseph Schweitzer
Rescue Squad
Captain - William Reilly
1st Lt. - Kurt Connolly
2nd Lt. - Frank Jon Romano
Chief Chauffeur - Tom Kelly
Secretary - Shirley Cote
Fire/Police Squad
Captain - Richard Fitzpatrick
1st Lt. - Rose Amereno
2nd Lt. - Gregg Happ
Chief Chauffeur - Robert Jensen
Secretary - Shirley Cote
Junior Brigade
Captain – John Senia
1st Lt. - Chris Oppedisano
2nd Lt. - Nick Drovetta
Secretary – Joe Rielly

Farmingdale F.D. Junior Brigade
Do you think any of your children might be interested in serving their community and at the same time getting an education in firefighting and emergency medical service? The Farmingdale F.D. Junior Brigade is open to any boy or girl in the Farmingdale community, ages 13 to 17. Our aim to enhance a sense of community spirit and personal values, with an awareness of fire, firefighting, fire safety, and EMS strengthens. Under the guidance of the Junior Directors, they participate in all fire department activities, which do not involve life-threatening hazards; including assisting at emergency scenes, attending parades and department social functions, and even "outside" firefighting-related classes. Juniors are issued a set of protective turnout gear, and a department uniform. Juniors are restricted to responding to calls only during certain hours, never during school, but their service to the community during their free time in invaluable. Most of our juniors go on to become active department firefighters when they turn 17, and the training they receive as juniors is an excellent preparation for becoming a firefighter. We value our junior members very highly. They are the future of the Farmingdale F.D.! If you, or someone you know, might be interested in becoming a Junior Firefighter, please stop by the firehouse on any Wednesday evening or Sunday morning, and one of our members will be happy to answer any questions you may have!
You may also call the firehouse at 516-531-9820.